With the compliments of Mr Sean Hogan, Buck Zroback of  Cranbrook Dodge and Margie Coleman of the Byng Roadhouse Bar it was indeed a great Christmas for  Country Music fans.
The familiar opening lines, "it was a dark and stormy night" were almost true. There was no storm of course but it was a dark, dark, very dark night. An electrical breaker had kicked out at Fort Steele and left most of the area in darkness. It was incredibly hard to spot the turn off into Fort
Steele. So much so that several performers were reduced to using their GPS devices to find the entrance road. The parking lot was equally as dark and it was only the lights of strategically  parked cars that  enable patrons to find their way to the Wild Horse Theatre. As the poster said this was the 9th annual Country Christmas show at the Fort Steele Wild Horse Theatre. Sean Hogan, recently recovered from Oral Pharyngeal cancer, invited some of Alberta's, and Canada's, finest singer / song writers to join him on stage for the show. Performers included Duane Steele, Bobby Wills (the only cowboy hat on stage), Jake Mathews and Samantha King. In the back ground doing
an absolutely monumental job as the back up band was Denis Dufresne (Du-nee Doo-frain) on fiddle and mandolin
and Karac Hendricks (Care-ac Hen-dricks) on electric and acoustic guitars. The format of the show was pretty straight forward with each performer taking to the stage for the first half of the show to reprise some of their well known and not so well known songs. After brief a introduction Jake Mathews kicked off the show with "I'm Gone", "Red Tail Lights and "If I had it My Way". Red Lights was featured in a video originally recorded near Kimberley and it included that fine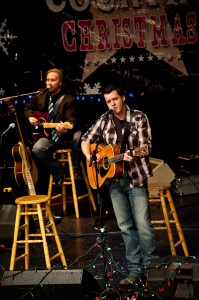 piece of country poetry " nothing says goodbye like red tail lights". Bobby Wills, complete with black cowboy hat and his favorite Gibson guitar kicked off his selection with the song, "Show Some Respect", that climbed to #8 on the
charts.  Bobby got his start in country music at an open mic session in, of all places, Byron Bay, Australia. Samantha King has been on previous Country Christmas shows and she performed her "Not Enough to Get Me", "The Black Bear" and a possibly slanderous piece of poetry in song, "The All Overs", dedicated to her ex-husband. Duane Steele is a long time co-writer with Sean Hogan and his stand out song was "Brave" . It featured some of his beautiful finger picking and the superb mandolin back up from Denis
Dufresne. It was a real treat to hear some classy mandolin playing that did not rely on over worked Blue Grass "chops" and runs. Duane's "Bottle It" was about saving the good times for when you can "pop the cork and drink it on down". That's a nice line. As was the poetry in  "A Waste of Good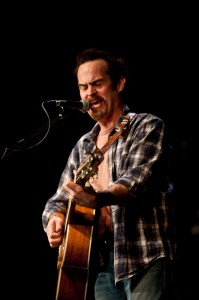 Whiskey" . This  is a song he co-wrote and performed with Sean Hogan. Sean Hogan rounded off the first half of the show with a set that included "Not Just Any Bull". Only in Alberta could somebody have a pet bison ride around in vehicle and have it end up in a song. After a brief intermission every body was back on stage to do a selection of Christmas songs that included "It Came on a Midnight Clear", "Have Your Self a Merry Christmas", "Rock Around the Christmas Tree", "Is That You Santa Claus?" (an old Louis Armstrong song) "O Come All Ye Faithful", "Look
What Love Did", and "O Holy Night". That last mentioned song garnered huge applause for Samantha King. In the Christmas mix was some Garth Brooks and George Straight flavored songs and a Happy Birthday greeting for 84 year old "Gracie" in the audience. This was a night of, dare I say it?, of real country music. No "Star Spangled Nashville Sounds" or country music dressed up in rock and roll clothes here. It was a night of blue jeans, rolled up sleeves and  calloused hands – the way country music should be. Here are a few more images from the show
The benefits from the show went to the  Kootenay Child Development Centre (250-426-2542).
 @@@@@@@@@@@@@@@@
THE BYNG IS BACK: SEAN HOGAN AND DUANE STEELE , Friday night, December 7, 2012, no earlier than 9pm. Over the years music has come and gone at the Byng Hotel but it appears that new management has initiated a new "live" music policy. Now, under the banner of The Byng Roadhouse Bar, things are back on track with bands performing on Friday and Saturday evenings and regular jam sessions every Saturday afternoon. Margie Coleman took over the lease of the bar in October and has been busy rehabilitating the room. The bandstand and dance floor have been restored to the bottom section of  room and suitable booths and furnishing have been added to the main social area. To date there are no kitchen services but that could change as circumstances permit. The country singer/song writers Sean Hogan and Duane Steele managed to hang around for a few days after their Christmas Concert at Fort Steele to perform at the Byng. It was an excellent opportunity to hear these two performers in an up close and personal environment. Here are some images from an evening of great "real" country music:
CLICK ON THE IMAGES FOR A LARGER VIEW
@@@@@@@@@@@@@@@@@@@