Blue Crush at the Stemwinder Bar and Grill  (Kimberley Ski Hill), Saturday and Sunday, 2 & 3 February 2013, 3-6 pm.
It is the Grammy Awards time of year. The time when the lunatic fringe of the entertainment industry masquerades as musicians and old timers lament the good old days of classic rock. Of course we forget that during the classic era there was as much nonsense then as there is now. Tiny Tim, Kiss, Madonna are just few that indulged in the entertainment hoopla of the day. Who can forget the spandex and mountains of hair? Time is a great filter and gives truth to the sentiment "if it is any good it will stick around".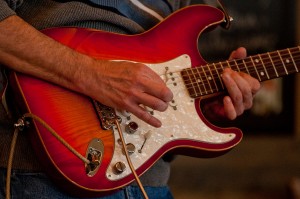 When I heard that BLUE CRUSH was to play at the Stemwinder I was expecting a "surfer chick" band (remember the movie Blue Crush?) so it was a pleasant surprise to be treated
to an afternoon of classic rock and country by this power house trio from Trail. And, although time is a filter, good musicians like BLUE CRUSH enhance the process by stripping away the garbage and getting to the meat of the meal. This trio with Terry Alton ('Stash) on guitar, Jason Thomas ("The Country Junkie) on bass and Jim Fike on drums do exactly that and then some. The classic stuff was all there. Dance, Dance, Dance,  Listen to the Music, David Wilcox's Riverboat Fantasy, Mark Knopfler's Sultans of Swing, Mama Don't Dance,  Roy Orbison's Pretty Woman (oh Julia Roberts I wish you were here), Jimi Hendrix's Little Wing and Voodoo Child, Stuck in the Middle With You, and my favorite the old jazzy Mel Torme tune Coming Home Babe (Terry prefers the David Sanborn version). There is nothing new about a cover band. With every over-40 musician trying to re-live their youth they are a dime a dozen. However this trio takes it a notch above the average and most of this is due to Terry Alton's guitar playing. This guy, who looks like a mild mannered school teacher or bank teller, literally blazes away on guitar. He has the ability, in common with of all great players, to make it look sooooo  easy. All the guitar gymnastics, slide  and pedal power are there in spades but he never breaks a sweat. He is one of the cleanest players I have seen in a long time. My only regret is that I would have liked to hear him explore more jazz based material. It is also unfortunate that he takes the focus away from his very capable band mates. They well deserve more than a mention. But what can I say? I'm a guitar player and that is my automatic focus. Sorry guys.
The Band will be back in the Stemwinder for the last weekend in March

       @@@@@@@@@@@@@@@@