The Kitchen Party at the Heidout, hosted by Angus MacDonald and Angus Liedtke, Sunday December 21, 2014, 5pm.
Angus MacDonald (fiddle) and Angus Liedtke (vocals, guitar, harmonica) are two young Cranbrook musicians who, in the fall, headed down east to
Holland College in Prince Edward island. Their quest was for more education and work related skills for a career in music and business. Naturally at Christmas they wanted to be back here it town to celebrate the season amongst friends and family. Part of the planned celebrations was a
KITCHEN PARTY at the Heidout in Cranbrook. That was just an excuse to gather together their musical friends and have some fun. The night was kicked off by LEATHER BRITCHES (Angus MacDonald – fiddle; Will Nicholson – guitar and Rod Wilson – Irish Bouzouki) reprising some of their standard repertoire that included The Dr Shaw Set, and The Graduation Set.  Angus Liedtke had spent the last four months polishing his song writing skills and judging from his first set it has been time well spent . What a Sorrow  – a song about an old couple who lived in the woods and one day the wife dies and the old man has to bury her and deal with his grief; Pack of Cigarettes – a friend's experience with heartbreak; You gave it your Best – a song about Louis Riel that started out as a song writing challenge by a friend.  From there on the music just flowed from  Steven Knowles (guitar and vocals), Blake Nowicki (electric guitar and vocals) and Justice Jones (guitar and vocals).
Angus Mac and Angus L were not the only lads back in town. Young country musician Connor Foote has been away for a while and he was back in town to hook up with his his musical compadre Clayton Parsons. They played  a bracket of tunes from the good ol' days in their band Gold Creek. Clayton had recently turned his hand to building guitars and now has also started playing the dobro (such a sweet sound).
After the young lads it was time for the "old" guys to add some of their solo performances to the evening. Tom Bungay, (guitar and vocals) pulled some songs from his immense standard repertoire; Mark Casey (guitar and vocals) obliged with some songs that included a special request for a Kinks song. Rod Wilson (cittern and vocals) obliges with some new tunes fresh from the press (so to speak) that included the Malachi Set (Malachi / Bondi Junction / The Heid Out), some older tunes (The Train Set – Come by Chance / The Train Stops Here / Sad Arrival on the Orient Express) and for good measure and old Irish ballad The Nightingale.
The two hosts returned to the stage to round out the evening. Angus Liedtke cruised though one song, Dressed in Red, in an imaginative Mexican scenario with his girlfriend before finishing up his set with with Hearts of Fire and This Old Bed (an ode to high school days in Cranbrook). Angus MacDonald set the place on fire with a bracket of extended tunes that he has gleaned from the traditional music sessions in PEI. The first set included Gordon Duncan's Tune / Christy Crowley's / Superfly; the second set Marie Hughes Jig (from Tim Chaisson) / Dan Collins Farther's Jig / Don MacKinnon's Reel / and a reel from Brenda Stubbert. The not too gentle rhythmic stamp of feet that accompanied this bracket of tunes was a real joy to hear.
Here are the money shots from the evening – Angus MacDonald and Mark Casey.
Before he leaves town Angus MacDonald will be back with more down east fiddle music with Leather Britches at the Heid Out on January 9, 2015 6:30 pm.
@@@@@@@@@@@@@@@@
ONCE MORE WITH FEELING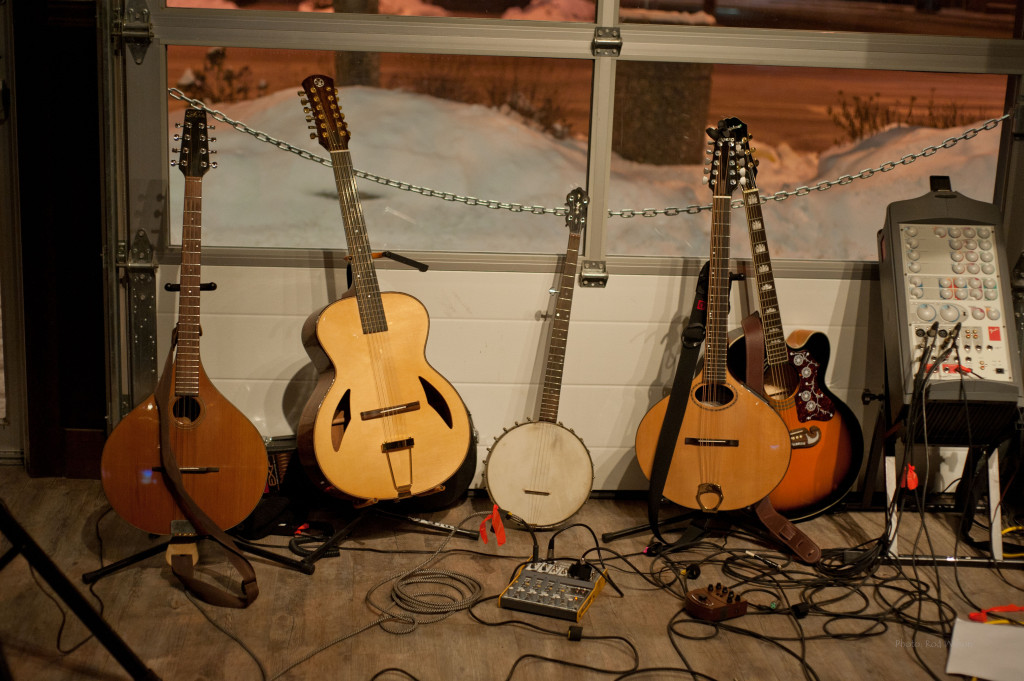 As promised Leather Britches returned to the Heid Out on January 9, 2015, 6:30 – 9:30 pm for some more down- east fiddle music prior to Angus MacDonald's return to PEI for the spring semester at Holland College. Here a couple of images of William Nicholson and Angus from the evening: